Franklin Says I Love You
Written by Paulette Bourgeois
Illustrated by Brenda Clark
Reviewed by Elijah L. (age 7) & Grant N. (age 8)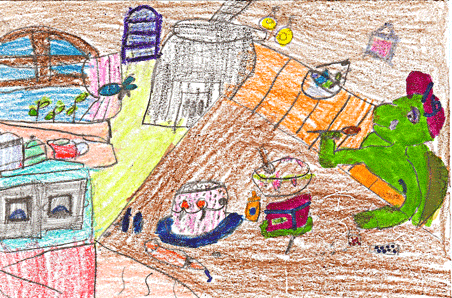 Once upon a time there was a turtle named Franklin. He said his mom got him the best things on his birthday. His mother?s birthday was coming soon. So Franklin decided to get his mom the best present ever! He did not have a lot of money so he could not buy a fancy gift for his mom. Franklin told his dad what he should do. His dad told Franklin to make a card so he did. He made the best card that he could. Franklin also made his mom breakfast for her birthday. He gave his mom the birthday present and he said, ?I love you mom!? Franklin?s mom said that the card he made was the best present ever!
Our favorite part of the story is when Franklin was lucky because he had the best stuffed dog and a cool goldfish in his room. We also like the part when Franklin gives his mom the card because we know he feels proud. Our favorite character is Franklin because he shows us to love our parents. This story relates to our lives because we give our mom a gift for her birthday and we love our moms just like Franklin.
This story has nice pictures that help tell the story. It showed us the card that Franklin made for his mom. We liked to look at all the details in the pictures. We think that other kids should read this book because it shows you that you should love your mom and make her feel special.