Black Bear Cub
Written by Dear America A Dear America Book
Illustrated by Katie Lee
Reviewed by KevinH&HunterK (age 5)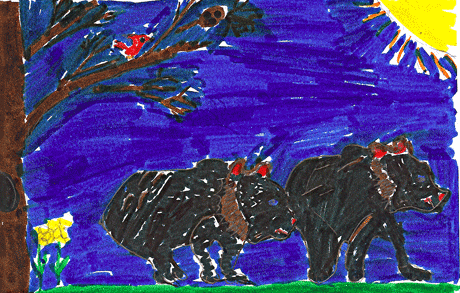 Our book is "Black Bear Cub." The story starts when the bears lumber out of their winter den and when it is still snowing they go back to sleep for a few more days. They wake up again and go looking for food. Then they take a swim. Also Mother Bear smells honey and they find the hive and all eat the honeycomb. Then they sense danger and they are right since coyotes try to get them but the bears climb a tree. The tree saves them from the mean coyotes.
We chose this book because we like bears. Also because we like bear cubs and animals.
We really liked this book because we love springtime. Springtime is when baby animals are born. Another reason we liked this book is because we love being in the outdoors. We love the woods too because you can see many animals. We also like seeing the many types of trees and plants.
We recommend this book to kindergartners because it is not too short or too long. Also it is about springtime when animals are born and flowers bloom. We also recommend this book to anyone who likes outdoors because it is based in the woods.