Fidgety Fish
Written by Ruth Galloway
Illustrated by Ruth Galloway
Reviewed by LoganC&ZacharyM (age 6)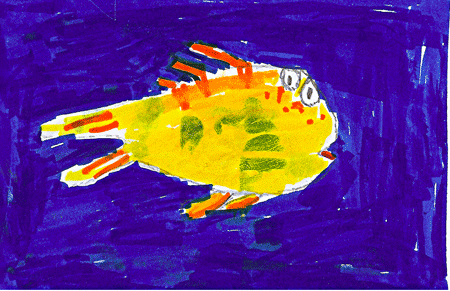 We picked this book because we liked the title, "Fidgety Fish," and the picture on the cover looked cool. We thought it would be a good book and would be fun to read and we were right.
"Fidgety Fish" is about a fish that can't stop being nervous. He goes on an adventure and sees all his friends. Then he gets gobbled up by another fish in the sea. Then the bigger fish BURPED and the fidgety fish shoots out of his mouth like a rocket, and that is funny.
We liked this book because we like fish and the way they look when they swim. We also liked the story. It was real funny. We recommend this book to all our friends who like funny stories with cool pictures.