Funny Farm
Written by Keith Faulkner
Illustrated by Jonathan Lambert
Reviewed by April B & Ashley (age 0)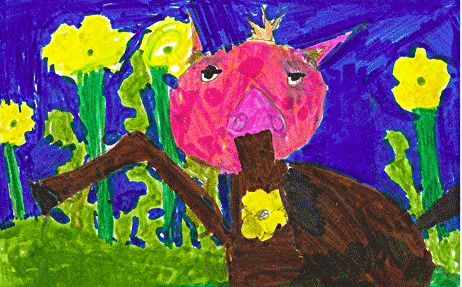 This is a little summary of the book, "Funny Farm." This is about funny farm animals that get all mixed up like a pig's head on a sheep's body. They make silly words, like the pig's head and the sheep's body make the word piep. Then the book mixes a lot of other animals and they look really silly too. The book makes up other words too and some of the new words get really silly. There is a pony pig in one picture.
The pictures get really funny too. We especially like it because we like farm animals. We really like the horses because they are cute in the book. Whenever you mix up the animals you will start to laugh a lot. We liked this book because it mixes up the animals to make us laugh. Also it is a pop-up book so when you open it the animals pop out at you.
We recommend the book to anybody who likes funny books and silly pictures. The book is really funny and will make you laugh and laugh.