Mouse Count
Written by Ellen Stoll Walsh
Illustrated by Ellen Stoll Walsh
Reviewed by JosephineB&ErinD (age 6)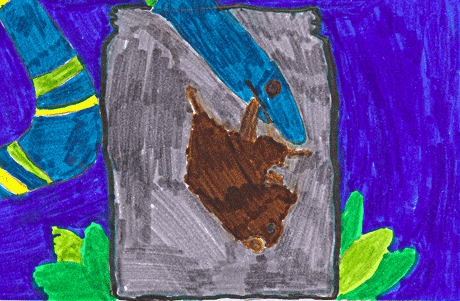 This is our review about Mouse Count. We picked this book because the because the mice are on one foot and the snake is watching them. The book is about a hungry snake that is hunting mice and he counts them up from one to 10. First, some mice were playing in the meadow on a hot summer day. Then they fell asleep and the snake picks them up, 1, 2, 3, 4, 5, 6, 7, 8, 9, 10. Next the mice trick the snake and they escape, 10, 9, 8, 7, 6, 5, 4, 3, 2, 1.
We really liked this book because it helps teach you how to count up and down and with a funny story. The pictures were cute and are drawn very good.
We recommend this book to anyone who wants to count to 10 and back. Anyone who wants to count forward and backward would like Mouse Count a lot.