Stone Fox
Written by John Reynolds Gardiner
Illustrated by Marcia Sewall
Reviewed by Nicolas (age 8)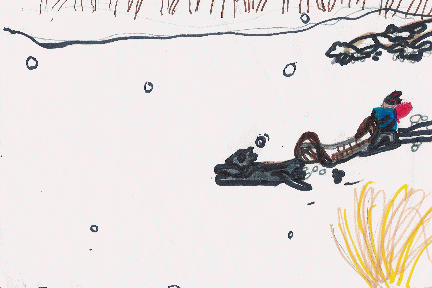 Stone Fox is a book about a kid named Willy and his grandpa. Willy has a dog and Willy loved his dog so much. Willy lives on a farm. The farm is on the back roads. It was winter time. Every day, Willy and his dog would sled all around. When the church bell rang, they would go home.
One day, Willy went home and saw a guy. Willy asked who he was. He said, "I am the tax man. Your grandfather has not been paying his taxes." Willy said that they could pay. He said that they could go to the bank account, but they didn't have any money in the bank account.
The next day, Willy saw a sign on a window in town. It said that there would be a sled race and first place would get 500 dollars which would be enough to pay the taxes he owed the tax man.
So Willy entered the contest. Willy has one dog, his old dog, to race with in the big race. Stone Fox is a very big guy who is a champion sled racer. He is in the race against Willy.
At the start of the race, a bullet shot up and the racers shot down the path. Amazingly, Willy was in first place and the finish line was about a mile away. Read on to see if Willy wins and pays off the tax man.
This book reminds me of when my dog died because he was sick. I was sad too, just like Willy was in the book.
The book made me wonder if his grandfather would be well in the end. It made me think a lot about that.
My favorite character is Stone Fox because of what he did. Also, he sounds like a cool man for beating all those guys in a sled race. Stone Fox also looks mean, but he is a nice person and I hope you think so too.
I recommend this book to people who like surprises. People who are in grades two to six would like it. People who like chapter books would like it too.