Owl Moon
Written by Jane Yolen
Illustrated by John Schoenherr
Reviewed by Meredith F. (age 7) & Katie L. (age 8)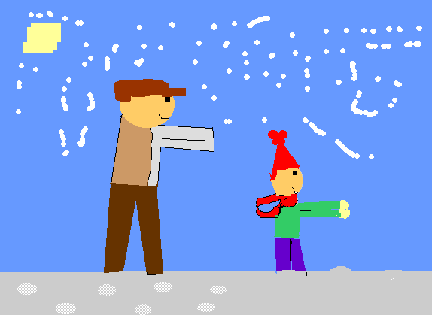 A father and his child went out late one cold winter night. They walked quietly through the woods stopping to listen for the great horned owl. They went farther and farther into the dark, scary, cold woods. The child?s father made an owl call and wanted an owl to come. Will an Owl respond? You?ll have to read this book to find out.
We liked how Jane Yolen used descriptive language in her story. I (Katie) also liked how Mr. Schoenherr?s pictures seemed so alive. I also liked the similes in the story. One of the very descriptive sentences I liked was, "A train whistle blew like a sad, sad, song." I (Meredith) liked how she described how to go owling. I liked when she used the sound effects to show the father calling the owl. I liked when she said, "her mouth was furry." It reminded us of when we are alone with our dads. It reminded Meredith of when she got a new bike with her dad. It reminded Katie when she made a wooden car with her dad.
This book is a thumbs up book because it has beautiful descriptive language. We recommend this book to adults who are teaching children about descriptive language and children who love to hear it. This book also won a Caldecott medal in 1988.