Hey, Al
Written by Arthur Yorinks
Illustrated by Richard Egielski
Reviewed by Mark S. (age 8) & Bryan M. (age 8)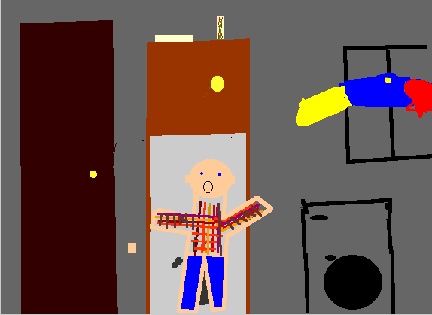 There was a nice janitor named Al who lived in an apartment with his talking dog Eddie. They did everything together. What could go wrong? A lot. Eddie yells at Al because there is no room to run outside. One morning when Al was in the bathroom, a bird popped in the bathroom window and said, "Al, come and wait here tomorrow morning and I will take you to your dreams." So they waited in the bathroom early the next morning for the bird to come. Soon the bird came and brought them to their dreams. Al and Eddie were having a wild time until one morning, something terrible happened. Read the book to find out what the terrible thing was and see if they get home!
This book is kind of a mystery because we don?t know if the bird is trying to be mean or if he didn?t know the terrible thing was going to happen. If the bird is trying to be mean, then the book reminds us of Riding the Tiger by Eve Bunting. You should never trust that you don?t know because they might not know what you really want. My (Mark) favorite character was Eddie because he is a talking dog. My favorite part was when the bird just popped in the window and surprised Al. It was really surprising that a bird just popped in a bathroom window. I think the pictures in this book are fantastic because they show time passing.
My (Bryan) favorite character was Al because he had a talking dog Eddie. My favorite part was when they got flown to the island because it had a good view of the island. There was bird carved on it. They dropped their suitcase. I like the picture detail because they showed a lot of different kinds of weird birds.
We recommend this book to people who like fictionally made up birds and to teachers who would like to teach a lesson of don?t trust somebody you don?t know because they might not know what you really want. This book won the Caldecott medal in 1987.