I'm Still Here in the Bathtub: Brand New Silly Dilly Songs
Written by Alan Katz
Illustrated by David Catrow
Reviewed by Paul C. (age 7)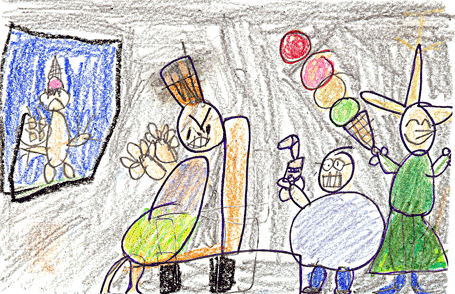 This book is full of silly songs to the tunes of other songs. For example, I'm Still Here in the Bathtub is the tune of Take Me Out to the Ballgame.
In the song My Sister Fights With Me, it looks like they're going to have a fight because they have a line across the room! I can tell by the pictures that the sisters are angry with each other. The illustrator did a good job. I like the eyebrows because they are so ugly. The pictures do not look like what they are supposed to be. They are more like cartoons. They make us laugh a lot. I have a little brother who sometimes breaks things. In Tiny Baby Brother, the brother smashes the car phone, smears paint through the den, and flushes the remote control down the toilet! I went to camp this year. I did not eat the mystery meat! I would like to visit Camp Salmonella just to see the funny creature from the picture. It looks like a chicken with fins, duck feet, and parrot feathers. It has a spoon and a fork stuck on its head!
I recommend this book to everybody. If you like silly songs or crazy pictures, then this book is for you.