Dinosaur Before dark
Written by Mary Pope Osborne
Reviewed by Jacob B. (age 9)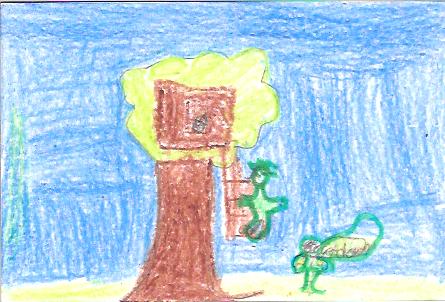 There were two kids named Jack and Annie. They took the short way home from school. Annie sees a tree house. Annie then says, "Lets go see what's in it!" Jack says, "Come down from there Annie!" But she doesn't come down. Jack then started to climb the ladder. They both see lots of books. Jack picks a book up. It is about dinosaurs. Annie says "I wish we could go there." Then the tree house started to spin.
If you get this book, read it and find out where Jack and Annie go. Find out how they get back home. Read this book to find out what happens after the tree house started to spin.
This book reminds me of the movie titled Land Before Time. This is a movie about dinousaours and how they lived many many years ago. Dinosaur Before Dark is a good book for young readers because it makes you wonder about how would dinosaurs look like today. Tree house books are very fun and easy to read books. They are books that help you use your imagination.