Geronimo Stilton: The Search for the Sunken Treasure
Written by Geronimo Stilton
Reviewed by A.K. (age 8)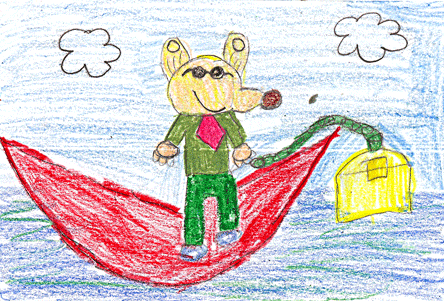 The Search for the Sunken Treasure is adventurous book! In the beginning, Geronimo Stilton got a lavender letter in the mail. It was from his Aunt Sweetfur telling him she was coming. As soon as he opened the letter his aunt zoomed right through the office door. His sister Thea, cousin Trap, and his nephew Benjamin came in right behind her. Aunt Sweetfur told them a story about their long, lost Uncle Grayfur. She said that his ship had a huge treasure that was worth millions of dollars and awards. Next, Thea, Trap, Benjamin, Geronimo, and Aunt Sweetfur went first by boat and then by plane to find their uncle's treasure. When they went to get food, Trap opened his big mouth and told people about the treasure. The next day they found the treasure, but they did not take it home until the next day. After they took the treasure they set off to go home. While they were sailing away they saw an island in the middle of nowhere. If you want to find out who or what is on that island read this book!
The Search For The Sunken Treasure is an outstanding book. The pictures were great. They really helped tell the story in a funny way. The colors were bright and had very funky designs. Also, this book has many funny characters. The main characters met crazy and strange people at the islands and stores they went to. The mice did weird things. For example, they jump off boats and planes. My favorite part was when the mice found the treasure. Last of all, I felt cheerful and excited when I read this book! It was fabulous!
If you like funny adventures, I recommend this book! It is just right for kids that like to be entertained and laugh. When I read this book, I couldn't put it DOWN!