Pokemon Mewtwo Strikes Back
Written by Tracey West
Reviewed by Roger R. (age 10)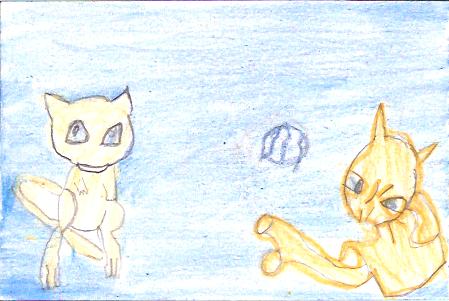 In the story Pokemon Muwtwos's Strikes Back Ash is fighting to get to fight Mutwo. Mutwo is the strongest. Pokémon. He is also a legendary Pokémon. Metwo was the first Pokémon to become the strongest of all. Metwo is the only undefeated Pokémon. Read this book to find out if Ash will ever get to fight Metwo or not.
I recommend this book to you, especially if you like to read about battles with monsters. You should read this book also if you like Pokémon. This was the fist Pokémon book to be written of the series.
I like this book because my brother and I like to play fightting. We like to pretend that we are the pokemons. This book reminds me of the book Harry Potter and the Goblet of Fire. It reminds me of it because they both get to fight with dragons. Both are also about fightting to see who is wins and the winer would be the strongest.