Charlie and the Chocolate Factory
Written by Roald Dahl
Illustrated by Quintin Blake
Reviewed by Heather H. (age 8)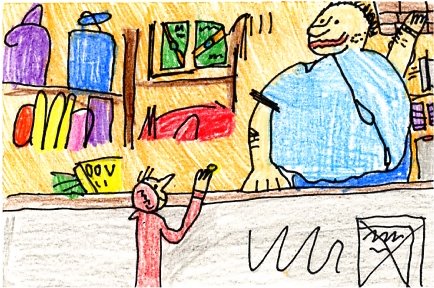 This book is about five kids named Augustus Gloop, Veruca Salt, Violet Beauregarde, Mike Teavee, and Charlie Bucket our hero. Charlie Bucket lived with his mom, dad, and his grandparents in a small, poor house. One day Mr. Willy Wonka the chocolate maker gave out five golden tickets. The first two to find the tickets were Augustus and Veruca. Then the next two were Violet and Mike. The day right before the factory opened, Charlie found the last golden ticket. The next day everyone showed Willy Wonka the tickets. They went into the chocolate room and everything was edible. Later three children were lost and only two were left. When Mike went away, only Charlie was left. Willy Wonka asked if he would own the chocolate factory. Would he like to own it? Find out by reading Charlie and the Chocolate Factory.
My favorite part was when Charlie found the last golden ticket because it was really exciting and because if he didn't find it, why would the author write a book about it? It is unique because Mr. Willy Wonka made interesting inventions that nobody ever made, like edible marshmallow pillows and fizzy lifting drinks. This book is part of a series because the next book is Charlie and the Great Glass Elevator. It has the same characters and it is about the same elevator in the chocolate factory. I think Charlie and the Chocolate Factory is a great book.
I recommend this book because it is interesting how Mr. Wonka makes the inventions and it has many things about candy too! I think that second and third graders should read this book.