The Boxcar Children - Mystery on Stage
Written by Gertrude Chandler Warner
Illustrated by Charles Tang
Reviewed by Mason J. (age 7)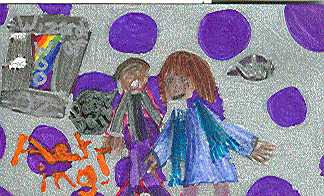 This book is about a family named the Aldens that are in a town program, a play about the Wizard of Oz. All the children - Henry, Jessie, Violet, and Benny - have something to do with the play. They have a cousin named Soo Lee, and she becomes the usher in the program. So many things go wrong at the rehearsals - Dorothy's dress is torn, a stage light falls and almost hurts someone, they lose some props, and more. Who could be doing all this? The Aldens try to find out.
I loved this book the Boxcar Children because it was very mysterious. Everything in this book kept on going wrong. I loved it! My favorite part was when Violet and Benny saw a girl named Sarah talking to a mysterious boy. My favorite characters were Violet, Jessie, and that girl Sarah because they helped with the costumes and the acting. Violet in this story reminded me of my Grandmother Flora because she loves to sew. The illustrations in this book are very good. I'll describe them - they are black and white and very pretty. This book is not like any other book I've read because it was creepy at the end. This book is in the Boxcar Children series.
I recommend this book to the people in my class who like mysteries because this book has a real mystery in it. I think another reason that my friends would like this book is because the book has a big family in it and they all work on the town program together. My friends would really like the part in the book where all those things go wrong and nobody can find out who's doing it. It's very mysterious!