Fantastic Mr. Fox
Written by Roald Dahl
Reviewed by Paige S. (age 7)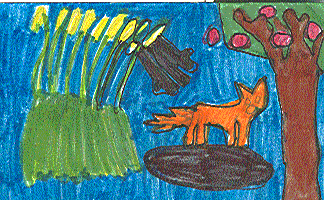 This book is about a fox and three farmers. The fox steals the farmers' stuff, and so the farmers want to kill the fox .The farmers shoot Mr. Fox's tail off, so Mrs.Fox is sad. Mr.Fox is sad too. The farmers go get their shovels and start digging because they still want to get Mr.Fox. Who will win?
I liked this story because it had lots of expression in the chapters. I liked the way the characters talked. The illustrations were black and white, and they were really good. The characters were good, too. It made sense to me that a fox and some farmers were in the story. I felt good when I read this book.
I recommend this book to other second graders. I think second graders would like to read this book because it has lots of words in it. I think this book would keep your attention. This is a very good book. I think the part of the book that other people would like best is when the farmers shoot the fox's tail off. You don't expect that to happen, and it makes the story interesting.