Magic Tree House #16: Hour of the Olympics
Written by Mary Pope Osborne
Illustrated by Mary Pope Osborne
Reviewed by Joshua H. (age 8)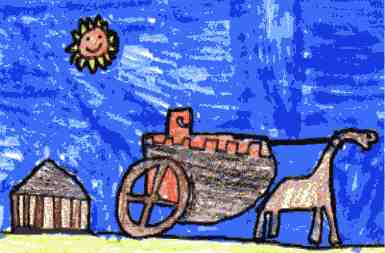 This book is about Jack and Annie in Ancient Greece in Olympia. Olympia is a place where the first Olympics take place. They meet a philosopher named Plato. Plato lives in Athens during the 4th century B.C. in the Hellenistic age end of Greek history. Plato said to Annie "you are a brave girl to walk in Olympia," because girls are not supposed to be in Olympia. Annie has to dress like a boy to be safe. Later, Jack and Annie meet a poet who gives them a book. Jack sees a statue of Zeus and imagines saying "hi" to the statue and the statue answers him. Then, Annie is captured by the Greek warriors. Jack holds the book in the air and say "save us!" You have to read this book to find out what happens.
My favorite part is when Jack sees a statue of Zeus. I like Greek gods and Greek History because they were philosophers, scientists, made the first Olympics, and mythology. I like mythology the best. I felt so excited when I was reading this book because I like anything about history.
Mary Pose Osborne makes you feel like you are there and it feels like it is happening to you. If you like Ancient Greece read this book.