Fallen Angels
Written by Walter Dean Myers
Reviewed by Sebastian J. (age 10)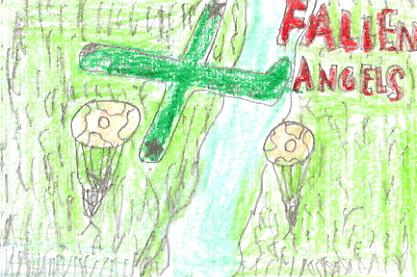 The Vietnam War is a war that should have never happened. This book introduced us to a company of heroes. Their names are Monaco, Johnson, PeeWee, Perry, Brunner, Jenkins, Walowick and Brew. Most of them went there to fight for their country, but now they're worrying about coming out of Vietnam alive. They encounter many challenges along the way, and how they meet these challenges is very interesting. How and will they survive?
I liked this book because I am interested in the military. This book could be based on a soldier's life because it is about a solider fighting in Vietnam. I also liked this book because it has a lot of details and descriptions, such as when Jonathan steps on a land mine and it explodes! It was suspenseful because in every chapter there was usually a fire fight or a battle so often something tragic happens. The chapters were usually up to 15 or more pages and I found that kind of hard to read.
I recommend this book to military enthusiasts. This book is for mature kids ages 10 years or older because it has a lot of vulgar language and battle sequences that might upset somebody younger.