Pictures of Hollis Woods
Written by Patricia Reilly Giff
Reviewed by Mary L. (age 10)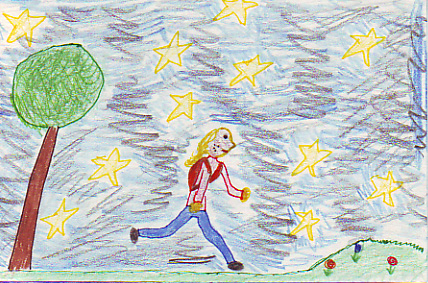 "She's a mountain of trouble that Hollis Woods". That's what all the other foster parents said about her when they took care of Hollis. The main character of this book ran away from many foster families because she felt she didn't fit in. She even ran away from the Regans, a family she loved, to help their son. Finally she is placed with Josie, an old and forgetful artist. The only people who Josie has to help her remember simple things like making dinner are her sister Beatrice and Hollis. Once Beatrice leaves to go painting in Mexico, Hollis knows she can't leave Josie. But when the people in the orphanage want to place her with someone else she has no choice but to run away with Josie and her irritable cat Henry. Will the people in the orphanage catch her or will she be able to stay with Josie?
I liked Pictures of Hollis Woods because of the flashbacks with Hollis and the Regan family. I liked those parts because they make me wonder why Hollis ran away when she fit in so well with that family. I think it was funny how Josie forgets things that come first in our mind like going to school. I like Henry because he reminds me of my own cat Shadow. I loved how the book made you ask yourself questions like is Hollis going to run away from Josie or is she going to stay.
I recommend this book to people who are 8 years or older and for people who like suspenseful books.