Goosebumps: Headless Halloween
Written by R. L. Stine
Reviewed by Allison G. (age 11)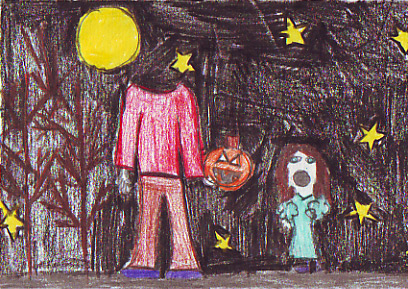 "I'm going to go headless this Halloween." This is a goosebump tingling story that will give you chills. Brandon loves to frighten people, which is why Halloween is his favorite holiday. On Halloween he scares children and takes their candy along with his friend. Scaring kids, pulling pranks on teachers, and eating all the candy you can eat. Sounds like the life, right? Should you trust Halloween? You never know what could happen...maybe something terrifying. Something that can change your life forever...
This book put me at the edge of my seat, frozen with fear. I'm obsessed with horrors, which is why it's my kind of book. It's so descriptive that it made you feel like you were actually in the book! My favorite part was when Brandon scared two little kids he was babysitting. The funniest part was that he got in trouble, because the kids' parents walked in hearing their children screaming and crying. I couldn't believe he would do that to two poor little children. This book can remind you of many people. Kids are all the same on Halloween, in a happy mood, begging for candy. There is something unique about this book, though, because this event could never happen.
I recommend this book because it's very exciting and really makes you think. I would recommend this book to people who love scary stories that make you shiver all over.