Red Fox Running
Written by Eve Bunting
Illustrated by Wendell Minor
Reviewed by Nabil H. (age 6)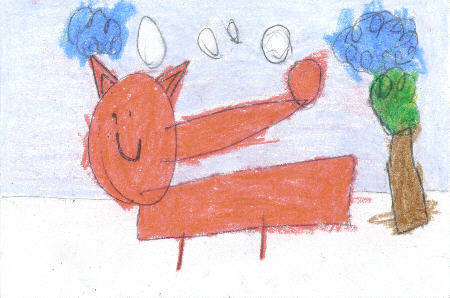 This book is about a red fox who is looking for some food. The weather is snowy and freezing! The fox sees a woodpecker on a branch, a deer , and a bunny, but he can not get to them. It is getting dark and night is going to come. The fox is still hungry. He sees a wildcat who is watching him! He finally finds some food. He carries his food to his family in the den. Then the red fox and his family go to sleep.
What I liked about this book was when the red fox was looking for food. The fox was scared of the wildcat because it can eat him. I also liked the wildcat but he didn't scare me.
As I was reading the story, I felt happy when I saw the picture of the wildcat and when the fox found some food.
The pictures in the story look very real. The illustrator used paint to color the pictures.
I recommend this book to 1st and 2nd graders because the pictures are like real life and they show what a fox has to do to get food for his family. The red fox has to work very hard to feed his family.
All of the characters in the story were beautiful because they were real animals. I really liked the fox and the wildcat.