My Dog Talks
Written by Gail Herman
Illustrated by Ron Fritz
Reviewed by Jumana D. (age 6)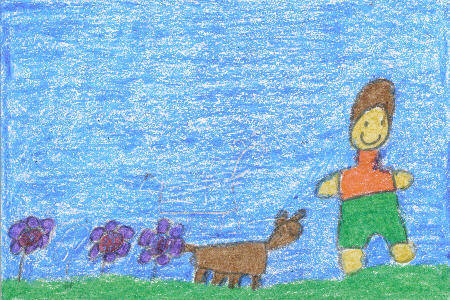 This book is about a boy who understands what his dog, Sam, is saying when he goes "Woof, Woof". Sam can't really talk people talk, but the little boy understands everything Sam wants when he "Woofs". The little boy tells Sam to say hello, he says "Woof." He tells Sam to sit and the dog sits. He tells Sam to roll over and he does that, too. The little boy takes Sam on walks, meets other dogs, plays in the sprinkler, jumps in the sandbox, and has lots of fun. Sam is a very smart dog and the little boy loves him and Sam loves him right back! If you like dogs, then you will enjoy this book!
What I liked about this book was that one time the little boy asks Sam to do his homework. I really wanted to see if Sam was really going to do his homework for him.
I think Sam is a pretty smart dog and he is very faithful to the little boy. Every where the boy goes, Sam goes, too.
This is a special book to read because it shows you how much fun you can have with a dog as your pet. Your dog can go to so many places with you and you can have a lot of fun with your pet.
I recommend this book to 1st graders because if you have a pet, especially a dog, then you will enjoy reading this story.