Macaroni Boy
Written by Katherine Ayres
Reviewed by Cody H. (age 11)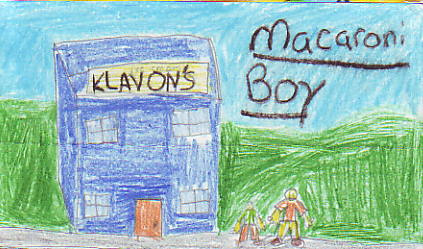 Michael Costa watched in horror as his Grandfather violently threw up again. As Mike walks with his friend Joseph to Klavon's Ice Cream Shop, he tells him about Grandpap's condition. Grandpap is extremely ill, just like many other people in town. The two boys want to find out what is making everyone sick and search for a cure for Grandpap. In their search they experience many extraordinary adventures. But will these get them the answers they are looking for? Will Mike's Grandfather get better?
This exhilarating story kept me reading because of the non-stop action. The suspense of wondering if they would find the cure kept me on my toes. The writer puts you right in the shoes of the main character because of the detailed first person viewpoint. I liked the main character because of his determination. He would not give up until he found a cure for his grandfather. No wonder this book was a Connecticut Nutmeg nominee!
I recommend this wonderful book to kids in grades 4-7. I think the plot will intrigue the readers!