Donkey-donkey
Written by Roger Duvoisin
Illustrated by Roger Duvoisin
Reviewed by Isaac Z. (age 5)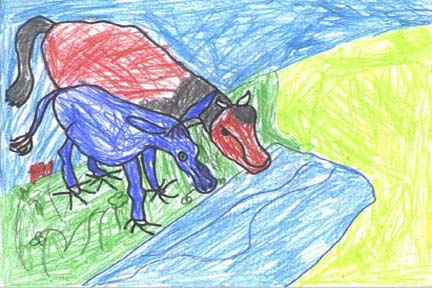 This story is about a donkey who thinks he has ugly ears. His farm animal friends advise him on how he should wear his ears, but he gets hurt and laughed at when he listens to them. Later a sparrow tells him to act like a normal donkey and keep his ears up. A little girl walks up to the donkey and says that he looks beautiful. The donkey is happy and feels beautiful after hearing this.
My favorite part is when the donkey and Pat, the horse, were drinking at the stream. I like how they drink with their big mouths. Pat is my favorite character because I like brown horses. I like the illustrations because it looks like water painting. The donkey has grey paint and the horse has brown paint.
This is a good story to read if you feel like Donkey-donkey sometimes, and you don't like something about yourself. This story will help you feel good about yourself. If you love farm animals, then you will love this story for sure.