Five Little Monkeys Sitting in a Tree
Written by Eileen Christelow
Illustrated by Eileen Christelow
Reviewed by Erin A. (age 6)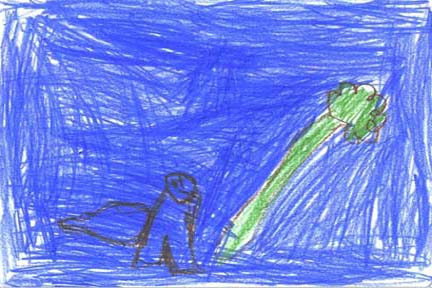 I read a good book about five little monkeys that go on a picnic with their mother. When they get to the river, they climb up a tree. The monkeys see a crocodile and they begin to tease him. The crocodile didn't like that, so he snapped at them. Two monkeys were hiding in the tree. Do you think the others got snapped at too? I guess you will have to read this book to find out.
My favorite part is when the crocodile found the monkeys, because they looked so surprised in the tree. My favorite character is the monkey that put her thumbs in her ears and wiggled her fingers in a teasing way. She said, "Nah, nah, you can't get me!" The illustrations really show how the monkeys and the crocodile are feeling. I can see when they are happy and when they are scared.
I would recommend this book because this story reads like a song. If you love songs and counting backwards, then you will love this book about five funny monkeys.