Stone Fox
Written by John Reynolds Gardiner
Illustrated by Marcia Sewall
Reviewed by Leah O (age 9)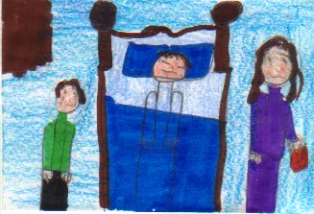 Willy's grandpa is very sick. He just stays in bed. He doesn't talk and he doesn't eat. Willy gets the doctor. The doctor said he is just old. Little Willy has to do the work on the farm. One day some men came and told Willy that his Grandfather owed $500. If he couldn't pay, they would take his farm.
Grandpa had no money. Little Willy had to figure out how to raise $500. He learns about a sled race that has a prize of $500. Little Willy enters. There are dog teams from all over the country in it. Stone Fox always wins this race. Little Willy is determined to win. Read the book to find out if he does and if he is able to save the farm.
I love it because I love the snow and I love dogs. I love to play in the snow just like little Willy and Searchlight.
Little Willy was my favorite character because he was scared to drive the sled. I would have been scared too. Little Willy became brave because he wanted to help Grandpa. I like how Little Willy could take over and do things that Grandpa always did on the farm.
My favorite part is when Little Willy was in the race. Searchlight and Little Willy dog worked very hard to win. It seemed like he knew how important it was to win the race for Little Willy.
This story reminds me of me. My grandpa was very sick. I worried about him just like Little Willy worried about his Grandpa.
I recommend this book to 3rd graders and older students who love animal stories. It has a lot of actionin it. The students will love it.