Fantastic Mr. Fox
Written by Roald Dahl
Reviewed by Rei E. (age 9)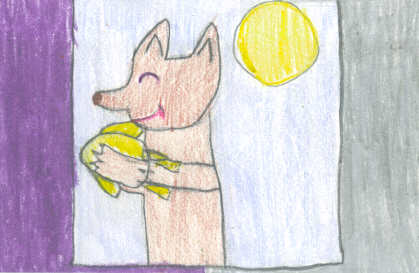 The first thing that happened was that there were 3 men, one short, one tall and skinny, and one fat. The fat person?s name was Boggis. The skinny person?s name was Bean. The short person?s name was Bunce. There was one clever fox that had stolen food from the three men. The fox had a wife and four children. Every night Mr. Fox had always stolen the three men?s food. But the three men knew that Mr. Fox was stealing from them.
The three men would stay at the tree when Mr. Fox would always get their food. The three men had guns but when Mr. Fox got out he did not get hurt, but only his tail had ripped off. Mr. Fox had to go back to his home under the tree. His wife had wondered why Mr. Fox?s tail had ripped off. The children had wondered too! After Mr. Fox had told the story to his wife and children, the children got right into bed.
Mr. Fox would dig up a hole so he would get all the food from Boggis, Bunce, and Bean. But it was hard so he had help from his kids. The kids were very hungry but they would still work. Mr. Fox had told the kids that when they?re done they would have a lot of food. Mr. Fox had seen the light. He went to Boggis, Bean, and Bunce?s houses to get their food. AT LAST, Mr. Fox had got all the food so they had a feast. Mr. Fox had invited the animal friends. They had a happy time. However, what happened to Boggis, Bean, and Bunce was that they were still waiting for Mr. Fox to come out of his hole!
My favorite part was when everyone had a feast because everyone was happy. I think the book is called Fantastic Mr. Fox, because his wife said, ?You are a fantastic Mr. Fox!? I liked this book because it?s funny. It?s a good book because you get into the story and you want to read more of the book.
I recommend this book to my grandma and my grandpa even though they don?t speak English. It should be a good book for them though because it?s funny.