DK Readers: Shark Attack!
Written by Kathy East Dubowski
Reviewed by griffin t (age 8)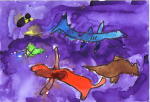 This story is about sharks. It starts out telling about how Rodney Fox got bit by a shark. It took 462 stitches to heal the cut. After the attack Rodney was still diving. He didn't want to kill sharks. He wanted to study them. Rodney then invented the very first shark cage. Did you know that there are only three dangerous kinds of sharks? They are the Tiger shark, Bull shark, and the Great White. The Tiger shark is large and powerful enough to attack most sea creatures. The Bull shark is one of the few sharks that can live in both fresh and sea water. The Great White Shark is the most feared and fearsome of all sharks. It has even been known to attack boats.
What I liked about this book is that it tells you amazing facts. I also liked when the author talked about Rodney Dox and how he invented the first shark cage. My favorite part is when it shows you where all the shark attacks have happenend over the years.
Boys and girls should read this book because the author made the book come alive. This book deserves an award because of the illustrations. I think you should read this book because you can learn about sharks. Kids who like books about the sea should read this book. Read this book to find out what is happening to sharks.