I Wonder Why Castles had Moats : and Other Questions About Long Ago (I Wonder Why)
Written by Philip Steele
Reviewed by michael p (age 8)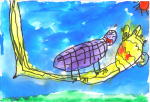 This book is an outstanding collection of facts from long ago. You will find more than 27 interesting details in this book about the middle ages. I learned about knights and how they lived. this book will tell you about the Black Death which killed millions of people in Asia and Europe. You will also learn who the first people were to chew gum, which you'll have to read the book to find out.
I like the book Castles Had Moats because it shares information about how people lived in the past and how they had to survive tough times. The illustrations are marvelous to look at. I also liked it because it is a very large picture book with many details.
I recommend this book because it has wonderful illustrations. It also has interesting, yet funny, facts about the middle ages. If you like history you will like this book.