Giant Dinosaurs
Written by erna rowe
Illustrated by Merle Smith
Reviewed by Chris p (age 8)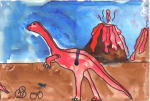 This book tells about many different kinds of dinosaurs. Some dinosaurs in the book are T-Rex and Triceratops. At the end of the book it shows how wide and tall the different dinosaurs were. This book mainly tells about big dinosaurs, but there are many small dinosaurs also.
I liked this book because there are a lot of different dinosaurs like the tyranosaurus, which was a meat eater (carnivore). I also liked this book because it taught me different dinosaur names. The illustrations are also very colorful.
I recommend this book to children ages 5-10 who like dinosaurs.