Even More Parts
Written by Tedd Arnold
Reviewed by aaron n (age 8)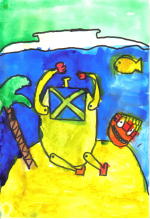 In the story Even More Parts a little boy thinks that all of the crazy and scary sounding idioms he hears are what really happens to people. If the reader doesn't know about idioms he or she will think the body parts really do fall off.
I liked this funny story because the boy in the story thinks that his body will turn into a huge mess of body parts. I also liked this because it teaches you about idioms. One idiom that really scares him is "I sang my heart out!" In the picture the boy's heart actually came out! That was my favorite part.
I recommend this book to kids who like silly books. This book will make you laugh. It will also teach you about idioms.