Rainbow Fish Tattle Tale
Written by S. Sander
Illustrated by Benrei Huang
Reviewed by Daniel C. (age 6) & Maria I. (age 7)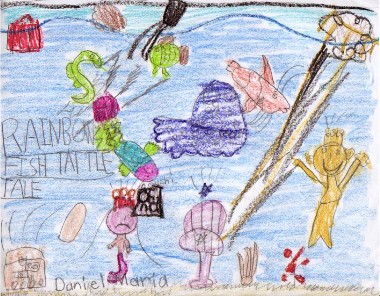 We picked this book because it has great pictures.
This book is about fishes trying to make a science project together. The fish had a problem making the science project because they did not try their best. They knew they could do it, so they try to work together. Read to see what happens to the science project!
We like this book because it teaches us a lesson. We learn that we always have to work together. We always work together at school. Rainbow Fish was our favorite character because she was so colorful. We liked it when she told everyone to work together. She solved the problem. We also think that the pictures are good pictures. They were colorful.
We recommend this book to kids because it teaches you a great lesson.