Down On The Funny Farm
Written by P.E. King
Illustrated by Alastair Graham
Reviewed by Matthew T. (age 6) & Courtney L. (age 7)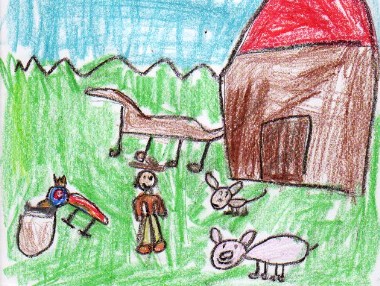 We picked this book because it looked funny.
The story is about a farmer. The farmer said hello to the old man and then the old man sold a farm to him. The farmer went to the farm. The animals on the farm are acting like other animals. The chicken acts like a dog. The horse acts like a rooster. He has a funny farm. What is he going to do?
Down on the Funny Farm is a really great book. It is so funny. The characters are silly. We liked it the most when the animals act like other animals. The author even has a funny name! The story makes us imagine what it would be like talking to animals. We think that would be weird and fun. We liked the pictures, too. The illustrator is a good artist. The pictures were so neat and clear.
We recommend this book to anyone because it is so funny. All students will like it.