Geronimo Stilton The Wild, Wild West
Written by Geronimo Stilton
Illustrated by Larry Keys
Reviewed by Jonah S. (age 9)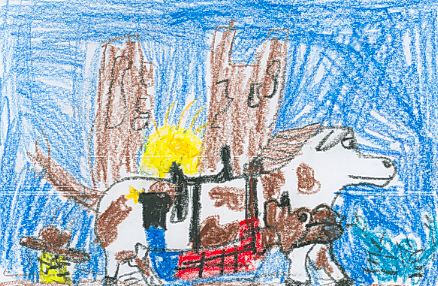 Hello Stilton fans! This Geronimo story starts with four mice stranded in the desert. They find their way to Cactus City and in no time Geronimo finds himself in some awkward situations. After stepping on Mick Muscle Mouse's toe he has one big mouse against him. This cowrat poses some problems but Geronimo has bigger problems to deal with. An evil mouse, a.k.a. Wicked Whiskers, has blocked the river and is making the citizens of Cactus City pay him for their water. Unfortunately, Wicked Whiskers (W.W.) is the sheriff. When Geronimo takes a stand against W.W. he finds himself in a rodeo, face-to-face with Bessie, an especially mean bull!
I love the way that Geronimo Stilton writes his books! The details are so life-like that I felt like I was there with Geronimo and the other cowrats, seeing it all happen. There is a part of the story about roping that reminded me of times I have gone roping with my sister. This book also reminded me of where I live, in the southwest. I can relate to water issues. We have to worry about water each spring, how much water we have depends on how snowy our winter is!
I think this book is great for kids who love cowboys and rodeos. Geronimo Stilton has written many chapter books and once you read one you want to read more. The author uses a lot of color and great illustrations! I've read almost all of them and you will want to read them all too!