Franklin's New Friend
Written by Paulette Bourgeois
Illustrated by Brenda Clark
Reviewed by Connor R. (age 9)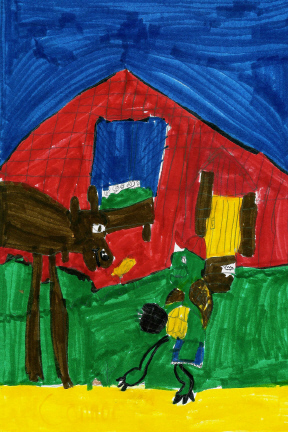 This is a story about a kid named Franklin. One day Franklin was riding his bike when he came across a moving truck. When he looked closer, he saw a family of moose. He had never seen a moose in real life so he was scared to meet their kid. He pedaled back to his house as fast as he could. When Franklin got to his school the next day, the moose was a new classmate of Franklin's. When Franklin met him, he was scared. When the bell rang for recess, Mr. Owl told Franklin to include the new student in the soccer game. He said no thanks. When the soccer ball got stuck in a tree the kids were sad. The moose got the ball down because he was tall. The kids were happy. After recess was done, Franklin and Moose figured out that they had a lot of things in common. When Franklin got home, he made cookies for Moose. He brought them over and they ate them all. Then Franklin went home.
My favorite part of the book was when Franklin met Moose. They had a lot in common. I liked that part because Franklin now has another friend to play with.
I liked the book because it teaches other kids how to make friends. If you are scared of something, you should face your fear and you will not be scared.
My favorite character is Franklin. I think he makes the book fun and interesting for kids. He acts like a person in the story.
I recommend this book to kids who like turtles as a pet and who like animals. Kids should also read this book because the characters seem so real. Your kid will have so much fun reading this book.