Franklin is Bossy
Written by Paulette Bourgeois
Illustrated by Brenda Clark
Reviewed by Derek C. (age 8)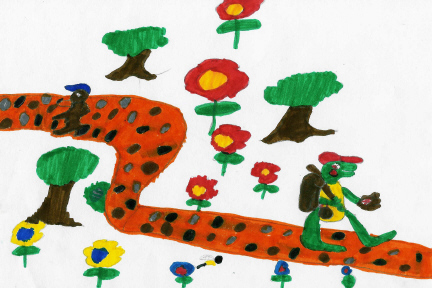 In the book Franklin is Bossy, Franklin wanted to play baseball and his friends didn't want to play. A little while later he wanted to play baseball again. His friends still didn't want to play. Franklin was getting bossy. The next day Franklin went to apologize to his friend Bear. Then they wanted to play baseball.
I liked this book because it taught you to try other things with your friends. Franklin wanted to play baseball but his friends wanted to play other games.
My favorite part was when they played baseball and Franklin wasn't being bossy anymore. He was happy that his friends played with him.
I liked the characters because they are animals. They remind me of kids and games that I would play with my friends. My favorite character is Franklin because he is a turtle and I like turtles.
I think kids ages four to age 12 will like this book because it teaches you a lesson about not being bossy. At about age four you get out of preschool and go into a different school. Then at about age 12 you go into another different school.