Give Me Back My Pony
Written by Jeanne Betancourt
Illustrated by Paul Bachem
Reviewed by Natalia D. (age 9)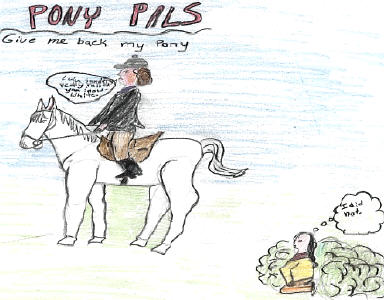 Lulu knows that Snow White belongs to Rema, a snobby girl who owns the Wiggins horse farm. When Rema comes home from boarding school Snow White will be her pony. Rema is mean and treats Snow White badly. Lulu's Pony Pals know that Snow White and Lulu belong together.
One day Lulu spies on Rema riding Snow White who is too small for Rema. The Pony Pals plan to have a meeting with Rema to see if she'll sell Snow White. When the time comes to get her pony back, Lulu gets a big shock, another girl wants to buy Snow White. Lulu is depressed. She needs to think of a plan to get her pony back and QUICK!
I think this book is great because I really like ponies. There are fantastic illustrations that really show what is happening. I think this book is a very good chapter book and I recommend it to anyone who loves horses and ponies.