Kensuke's Kingdom
Written by Michael Morpurgo
Reviewed by Meghan P. (age 11)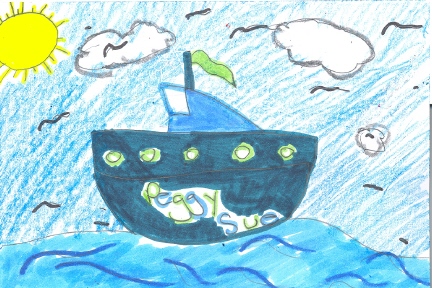 Kensuke's Kingdom is a wonderful fiction book about a boy named Michael and his dog, Stella. Everything seams perfect until Michael's mom and dad decide to move away and live on a yacht. They are almost in Australia when a huge storm hits. During that storm Michael is trying to drive the boat while his parents are asleep below him. Michael and Stella get thrown off the boat and on to an island in the middle of nowhere! Michael meets a strange man named Kensuke. Will Michael be friends with this man? Will Michael's parents find him? Will Michael even survive? Find out by reading Kensuke's Kingdom.
I loved this book because it is full of surprises. What I like about this author is that his writing is very descriptive and it's easy to understand. My favorite character is Michael's dog, Stella, because she always seems happy and loves to play! My favorite part in this book is when Michael first meets Kensuke. It's funny because Kensuke is going CRAZY!! I made a connection with Michael about moving because I know how it feels to have to leave your friends. This is one of the best books I have ever read, I could hardly put it down ... and I'm not a big reader.
I recommend this book to 4th or 5th graders who love surprises. It's also for readers who want to take a break from big books.