The Secrets of Droon: In the Ice Caves of Krog
Written by Tony Abbott
Illustrated by Gil Adams
Reviewed by Caleb L. (age 7)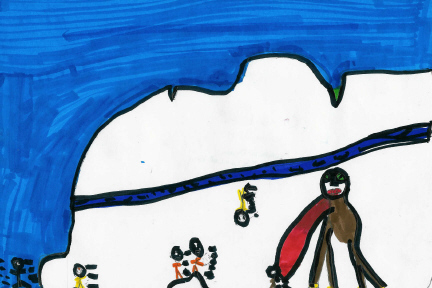 This book takes place in a far away land called Droon. Droon is filled with weird animals and crazy plants. The main character is Eric. Eric has three friends and they are trying to stop a snow dragon from doing too much damage to his cave. When they are trying to stop the snow dragon, they are in the ice caves of Krog. Read on to see if they have much luck stopping the snow dragon.
I liked this book because I thought that some parts were funny. For example when Eric and his three friends went to the park and played tag, Eric fell in the mud. When I read that part, I smiled.
Eric is my favorite character because he is funny. He tells funny jokes. Eric also does things like he cheats at soccer.
This book is like one of the Magic Tree House books, Vacation Under the Volcano. They both take place in dangerous places. They both have characters that are in trouble. The books have a lot of the same action. When I'm reading them, in my head, it feels like Eric is the same type of person as Jack in the Magic Tree House books.
I'd recommend this book for kids ages seven and up. If you like Magic Tree House books, you would like this book.