Emperor Mage
Written by Tamora Pierce
Reviewed by Eliza G. (age 9)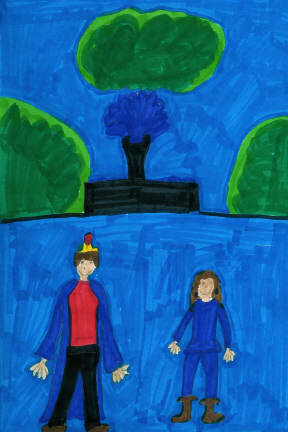 This book is about a girl named Daine and her teacher Numair. Her teacher is teaching her how to use her magic. Daine has wild magic which is very rare. She can talk to animals with her magic. Her magic starts to grow. Then she and Numair have to go to Cathark to sign a peace treaty. The Emperor there is very sneaky and sly. The Emperor is acting very odd, he is very nice to his birds, but mean to his people. He had some nasty tricks in the past, but what will happen now? Read the book to find out what happens to Daine and Numair!
My favorite part is when Daine wakes up dinosaurs and goes on a rampage because she thinks Numair is dead. I like this part because it was funny to think of dinosaurs being woken up from the dead.
I like Daine, she is my favorite character. I like her because she is brave, and can handle a bow and arrow. I also like the wild magic. She can do amazing things like talk to birds and her pet marmoset named Zek.
I felt good while I was reading this book. I felt good because when it it exciting in a book I feel good and this book is very exciting. All the action kept me reading.
I recommend this book to 3rd through 6th graders. I think they will like this book because of the excitement. Kids who like fantasy will really like this book.