Wake Up, Sun!
Written by David Harrison
Illustrated by Hans Wilhelm
Reviewed by Christine J. (age 10)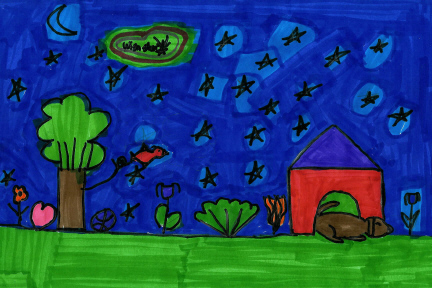 In the book, Wake Up Sun!, the main characters were Dog, Pig, Cow, and Chicken. This story takes place on a farm really early in the morning. All of the animals are trying to wake up the sun because they woke up before the sun did.
Dog woke up when the flea bit him and that started the whole thing. Dog woke up the other animals and they tried to wake up the sun. In the end, the animals thought the baby woke up the sun. They were nice to the baby.
My favorite part was when Dog was waking up Pig. Pig was tired and he said to the dog," be quiet!" He told Dog that the sun was not up yet. I liked it when Dog and Pig looked in the well for the sun.
There were characters that I liked in the story. The dog and the chicken were my favorite characters. They were funny when they looked for the sun.
There are illustrations in the book on every page. They are colorful and they have lots of details about the farm. The farm animals have many different expressions on their faces. I liked the illustrations in this book a lot.
I recommend this book to kindergarteners to third graders. The printing in this book is big print. Kids who like animals would like this book.