Abarat
Written by Clive Barker
Illustrated by Clive Barker
Reviewed by Annik B. (age 9)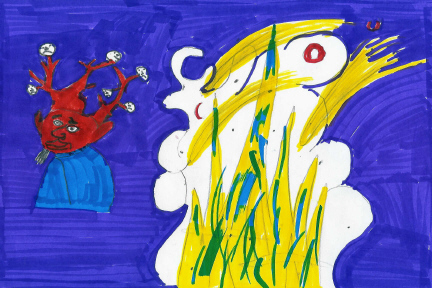 Candy Quackenbush, a thirteen year old girl, lives in the most boring place: Chickentown, U.S.A. She wants to get out of Chickentown and that's just what she did. But she escaped to somewhere much different than she expected...the twenty-five islands of the Abarat.
The Abarat is a place where they call Candy's world "the Hereafter". There are creatures she couldn't have ever imagined there and even the stars are different. When she's there, lots of things go wrong. For example, a giant moth carries her away.
I liked all the characters in this book because they were all not very normal. For example there were sea skippers that looked sort of like frogs, but were blue, hopped on top of the water, and were way bigger than frogs.
In Abarat, there were lots of illustrations. I liked them because if there was a character that was hard to picture, there would be a detailed picture of it. The illustrations were also very colorful.
My favorite part in this book was when Candy escaped from this evil man's house with his servant, a creature from the Abarat. I liked this part because it was exciting when the evil man almost caught her and the servant.
I think people who like books about other worlds would like this book. I would recommend Abarat to third to eighth graders.