I Wish that I Had Duck Feet
Written by Theo. LeSieg
Illustrated by B. Tobey
Reviewed by Thomas B. (age 7)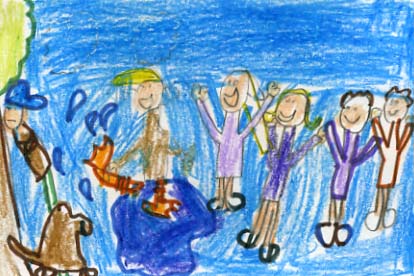 The story is about a little boy and Big Bill Brown. It takes place outside. In the beginning, a boy wanted to try different ways that different animals live. He saw the good and bad ways of each animal. Then, he wished for reindeer horns because he wanted to see if he would get made fun of. But instead of getting made fun of, he never got a ride in a car. In the end, he became a whichwhatwho and found he was happy just being a boy because all the things he wanted were bad.
I enjoyed this book because the boy has a big imagination. My favorite part was when he blew Big Bill Brown down with his elephant trunk. It made me laugh. The story reminds me of when I go to the zoo, because of all the animal parts.
I would recommend this book to my friend Tyler because it is funny and educational. He likes to build animals with legos, so he would like to read about all of these animals.