Cafeteria Lady from the Black Lagoon
Written by Mike Thaler
Illustrated by Jared Lee
Reviewed by Jennifer M. (age 8)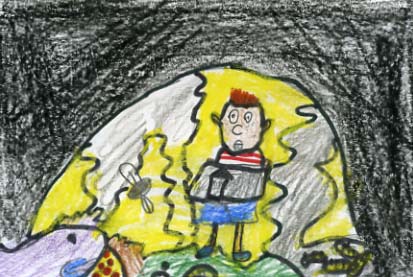 This book is about Wanda Belch,the lunch lady, and Eric, the kid in school.It takes place at school and on school property.
In the beginning, Eric?s old cafeteria lady left and now they?re getting a new cafeteria lady and her name is Wanda Belch. Then, they think she?s going to serve food like real witches in her sandwiches and like gooley ghouls in her goulash. At the end, they found out the cafeteria lady wasn?t so bad after all because she was pretty and because she was very kind and nice.
I enjoyed this book because the illustrations were beautiful and the ending was very surprising! This book is part of a series. It is like the other books because the kid always is scared of someone new in school. At the end of each, he finds out the person is really normal. This book is different than the others in the series because it is a different school person.
I would recommend this book to people who already like the Black Lagoon Series. They will find it interesting because of all funny names they make for the lunch menu.