Ruby the Red Fairy
Written by Daisy Meadows
Illustrated by Georgie Ripper
Reviewed by Lauren B. (age 7)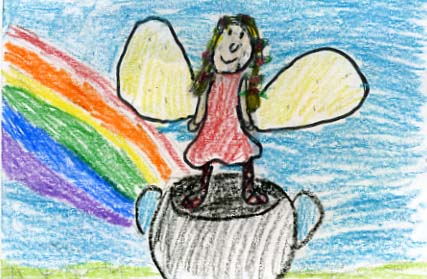 This is a story about two little girls named Kirsty and Rachel. They met each other and made friends when they were on the ferry on the way to Railspell Island. They made a play date and while they were playing they followed the rainbow to the end. When they got to the end they found an old black pot. To their surprise there was a fairy named Ruby in the pot! Ruby told them that Jack Frost put a spell on Ruby?s sisters and sent them away. If Ruby does not find her sisters Fairyland would be gray forever. Rachel and Kirsty told Ruby to stay in the pot and they would find her sisters. Ruby put wings on Rachel and Kirsty so they could go back to Fairyland. It was exciting to see human?s fly! Rachel and Kirsty went to Fairyland and told the queen about helping Ruby.
I especially liked the part when the girls found Ruby. Can you imagine looking into an old black pot and finding a fairy??? Ruby was my favorite character because I loved the way she did magic like when she brought color to everything that was boring.
I enjoyed this book because I like fairy tales and this book has fairies and magic in it. This is part of a series called ?Rainbow Fairies?. Each fairy represents a color of the rainbow and has a special magic. You will have to read the books to find out. There are seven fairies to read about.
I would recommend this book to children that love to read fairy tales. This book was fun to read because it had chapters and was about two friends helping fairies bring color to Fairyland.