City of Ember
Written by Jeanne DuPrau
Reviewed by Maggie K. (age 11)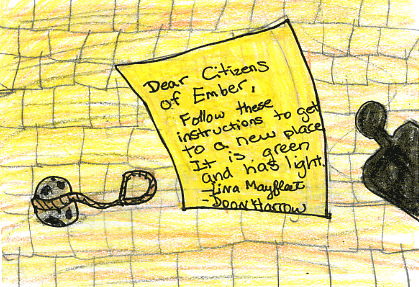 "Instructions to Eres....." What does this mysterious letter mean? Of course, it is the instructions to something. But what? Lina Mayfleet and Doon Harrow intend to find out. After all, the City of Ember is falling apart. There are shortages of everything from food and water to electricity! Can Lina and Doon save the citizens of Ember? Join in on the adventure to find out!
When I read City of Ember, I was constantly excited to see what would happen next. I wondered if Lina and Doon would ever find a way out of Ember. I worried that the lights would go out forever. My favorite part of the book is when Doon and Lina start to decode the instructions that they find. It is interesting to follow along as they discover what each word means. Doon Harrow changes from a very shy kid to a friendly, adventurous person. Lina Mayfleet reminds me of myself. She is outgoing, likes adventure, and is a good friend.
I recommend this book to adventurous 8-12 year olds. It is full of fun and excitement!