Fidgety Fish
Written by Ruth Galloway
Illustrated by Ruth Galloway
Reviewed by Zoe & Kim (age 6)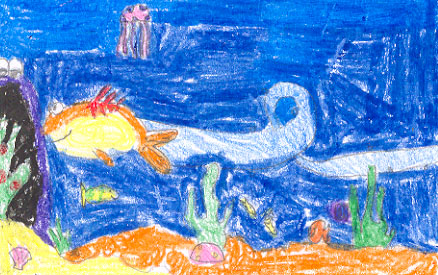 Fidgety Fish is about a fish name Tiddler, that has a lot of energy and his mom wants him to get rid of it. Tiddler's mom tells him to go into the sea and get rid of his energy, but be careful and watch out for the big fish. Tiddler, the Fidgety Fish, does so and ventures into a cave. Is it really a cave or is it something else? Find out when you read Fidgety Fish.
This book teaches the lesson that you should listen to your parents and not to venture off where you should not go! This book is great according to Zoe. She loves animals, so she loved this book. Our favorite part is when the big fish snaps his mouth shut, trapping Tiddler. There are many great illustrations in this book that we enjoyed. They are very colorful.
We were very surprised to find out what happened to the Fidgety Fish in the end. We recommend this book to all ages. If you like fish, you will like this book for sure!