The Enchanted Book
Written by Ruth Chew
Illustrated by Karen Barnes
Reviewed by Caitlin A. (age 10)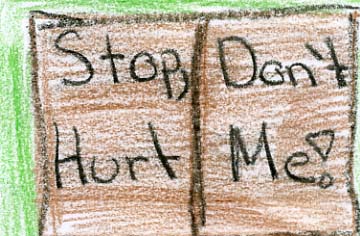 When you write in a journal, something can happen that you don't expect! When Serena's birthday comes, her brother Jay gives her a journal. As she begins to write in it, words pop up all by themselves! The words that appear teach Serena and Jay how to do a spell. As they are reading a book about King Arthur, they get sucked into the story! Now they are in ancient times and Serena and Jay have to figure out how to get back home. Read The Enchanted Book - you'll find it most enchanting!
I liked this book because it has a lot of suspense. When I was reading it, I kept wondering if Serena and Jay were ever going to get out of the King Arthur story. Serena reminds me of myself. She likes to try new things and she likes adventure and so do I. This is the first fantasy book that I have ever read. The author shows a lot of imagination. Getting sucked into a story is unusual and exciting. If I compare this book to another, it would be really different. I am used to reading book about real life and this certainly isn't!
The Enchanted Book is the best book I have ever read. It is not a long book but it is definitely worth reading. If you like adventure, The Enchanted Book is the right book for you!