Moby Dick
Written by Herman Melville
Reviewed by Nathan V. (age 11)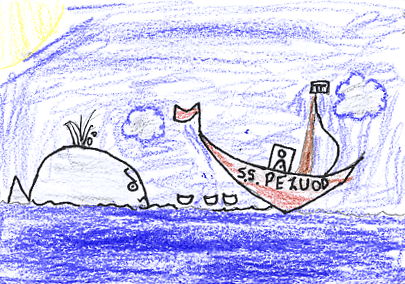 There she blows, Cap'n! This book was thrilling, classic and most of all, adventurous! It's all about Ishmael, a young schoolmaster who signs aboard the Pequod. Ishmael, Ahab, Queequeg, and 30 other sailors try to find and hunt Moby Dick, the great white whale. These sailors embark on a magnificent adventure. They meet other ships, slaughter whales and even lose a member of their crew! From whales to harpoons, from harpoons to Ahab, it is time to come aboard the Pequod, mate.
The illustrations are quite detailed. They are in black and white. This lets the reader use his imagination to see what colors there might have been. The character that I find most interesting is Ahab. Even though he is full of vengeance, he is extremely brave and willing to make great sacrifices to kill Moby Dick. My favorite part of Moby Dick is when Ishmael and Queequeg are together. It shows how strong a friendship can possibly be. Moby Dick shows the reader about life on a whaling ship. I enjoyed the book because it gives great details about things like whaling ships and harpooning.
I recommend this book to any one, any age, who likes classic adventure stories. Don't read this book if you get sea sick because it is truly a sea faring adventure!