Eragon
Written by Christopher Paolini
Reviewed by Ryan S. (age 11)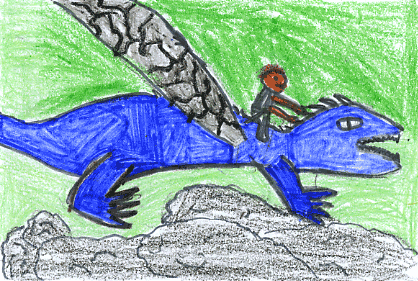 Can you imagine yourself as a 16 year old boy that is going to save an entire country? When a boy named Eragon finds a large blue stone in the forest, he thinks he's found a valuable rock. But when a dragon hatches from it, trouble begins in Algaesia. As the story continues, two figures cloaked in black come into town and kill Eragon's uncle. All Eragon wants to do is seek revenge against these evil, inhuman creatures. Now Eragon and Saphira (the dragon) need to save Alagasia from King Galbatorix, an evil tyrant. Will Eragon prevail in his quest? Read this book to find out.
I enjoyed this book because it is filled with adventure throughout the book. It is also packed with suspense. My favorite part was when Eragon fought with the Urgals near the end of the book. The young hero Eragon reminds me of my brother because they are both very energetic.
I recommend this book to anyone who likes fantasy and adventure. I also recommend this book to readers ages 10 and older. If you read this book and like it, I also recommend the sequel, Eldest.