Rainbow Fish to the Rescue
Written by Marcus Pfister
Reviewed by Kaitlyn&Alexis (age 6)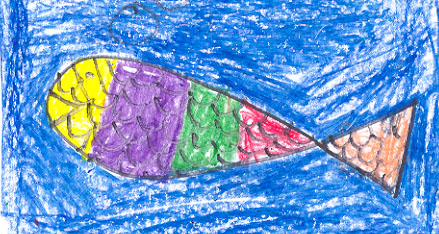 This book is about how no one would play with a little fish. One day a shark came and everyone hid in the reef. The shark was going to eat the little fish. We wondered as we were reading it if the Rainbow Fish and his friends were ever going to be nice to the little fish. Will Rainbow Fish save him?
This was a good book. We liked it very much because the Rainbow Fish saves the little fish and that was nice of him to do that. This book is not like any other book we have ever read before, because we have never read a book about a fish saving another fish. We have read other books by Marcus Pfister because they have the rainbow fish in them. There is something unique about this book. The pictures are unique because they are shiny.
We recommend this book because it was very good. We recommend it to people who like fish. You will learn the lesson to be nice to people even if they are not very pretty.